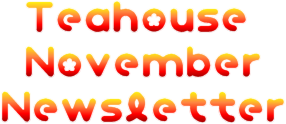 November is already here - it won't be long until Christmas is on its way. This month our American friends will be setting down for a thanks giving dinner and our British friends will be standing in the cold next to a bonfire enjoying Guy Fawkes night.

"I would maintain that thanks are the highest form of thought, and that gratitude is happiness doubled by wonder."
Gilbert K. Chesterton


Congratulations to Usagi for her winning entry for the October Photography Contest.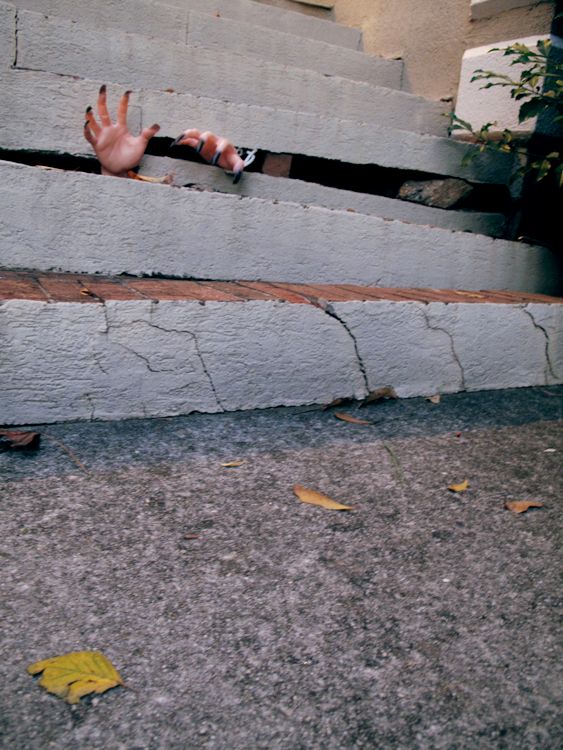 Winner for October's MOTM is the lovely Josephine
November Pixel Contest
Hosted by Lisa
Come and practise your pixelling skills this month with out fun pixel contest! This months theme is Fairy Tales.

November Photography Contest
Hosted by Kit
Do you love taking pictures? Well then grab your camera and get snapping! This months theme is Crazy Colourful!

November Member of the Month
Hosted by Melissa
Do you think you have what it takes to be MOTM? If so nominate yourself for the award. Click here to nominate yourself


Leftover Turkey
•Turkey Sandwiches - Just add turkey, lettuce, mayo or miracle whip, a little salt and pepper on your favorite bread and voila the perfect sandwich! You could fancy it up with toasted garlic bread, or add some seasonings to the mayo to make a special sandwich sauce, or maybe fresh or chiabata bread, the possibilities are truely endless, so be creative!
•Turkey Wrap, another variation on the turkey sandwich, using a tortilla instead. Pile on lettuce, raw veggies and plenty of turkey. Top with some ranch dressing and roll it up for a portable lunch or snack. Another fun idea is to mix shredded turkey with a little mayonnaise, some chopped apple, grapes and a few walnuts for a turkey salad wrap. My favorite wrap sauce: take one box of regular cream cheese, one 12oz container of sour cream, and one cucumber shredded and combine together.
•Open Face Turkey Sandwiches: Start with some really good toast. Rub a little garlic or butter on it if you'd like. Then, lay slices of turkey on it and cover with gravy. Heat up some left over stuffing and stick it in the toaster oven or your regular oven to give it a nice little crust and dinner is ready.
Some other ideas are Turkey Enchiladas, Fajitas, or Tacos, Turkey Soup, Turkey Salad, & Turkey Chili.
Submitted by Lisa
November is Prematurity Awareness Month, since this subject is close to my heart, I chose it to write about this month. What is prematurity? Prematurity is when an infant is born 3 weeks or more before it is due. The earlier it is born the more likely it will have health problems as a result. These can include intellectual disabilities, Cerebral palsy, Breathing and respiratory problems, Visual problems, Hearing loss, Feeding and digestive problems. The babies can spend a long time in the NICU, which can result in a huge struggle for their families.
My personal story with Prematurity, is when my daughter came 6 weeks earlier then she was supposed to. She had to be put on cpap to help her breathe, feeding tube, etc, and she also had alot of digestive problems well into her infanthood. But compared to alot of families we got off easy. She only spent 10 days in the NICU, there are babies who can spend months in the NICU. And even when you bring a premature baby home you're struggles are not over! A premie infant isn't like a normal newborn. You can not let them sleep more then a couple hours, they have to be fed every 3 hours, and this goes on for a few months. My daughter struggled with digestive issues for the first 9 months. It was many sleepless nights, and if not for the help of my mom taking turns staying up with her, I don't know how I would have did it.
What can you do? You can contact your local hospital with a Neonatal Intensive Care Unit to see what ways you can volunteer to help in the NICU. You can also donate premie size sleepers, blankets, and other baby items to your local NICU for them to give to the families or use in the NICU. There are groups in our area who sew and knit baby blankets, hats, booties, etc and donate them.
~by Lisa

Crochet Turkey Tissue Box Cover
Find the instructions HERE!

Top 5 Cranberry Sauce Upgrades
1. Make Chutney: Unlike classic cranberry sauce, which tends to be sweet and citrusy, chutney leans more toward savory, with additions like aromatic shallots and warm spices.
2. Add Dried Fruit: Dried fruits—like raisins, apricots, cherries and dates—plump up while cooking, adding terrific texture and subtle flavor. Plus, cranberries pair well with most fruits, so chances are there's an ideal add-in already in your pantry.
3. Make Relish: In just minutes, a food processor can transform whole cranberries—fresh or frozen—into an incredibly fresh-tasting relish. The trick: Balance the naturally tart berries with sugar, honey or agave. Adding fresh fruit like apples and orange segments helps create a brightly flavored condiment reminiscent of pico de gallo.
4. Doctor Jarred Jelly or Preserves: Here's the easiest cranberry sauce ever: In a saucepan, combine fresh or frozen cranberries with your favorite jarred jelly or preserves and cook over moderate heat, stirring occasionally, until the cranberries burst and are suspended in a sauce. This isn't an exact recipe, clearly, but it lends itself to experimenting with unusual flavors, like spicy red pepper jelly or apricot preserves.
5. Add Booze: For years, people have been spiking dessert, so why not cranberry sauce?
Source foodandwine.com
National Adoption Day 2013
November 23, 2013 is National Adoption Day. The event was created not just to honor the gesture of welcoming a parents-less or foster child as your son or daughter, but it's also a celebration of the family and its ties - ties of blood and of soul.
Were you adopted? Or do you dream of adopting one day?
Adoption really is just a different kind of childbirth. You don't deliver your baby from your womb, but from your heart. It's really exciting, fearful and sweet at the same time. Like a pregnancy.
Some people still think it only takes a huge wallet to adopt. No, it really takes a fertile heart that is able to give life. Money is a secondary aspect.
If you're looking for another information-packed adoption resource, there's Dave Thomas Foundation at http://www.davethomasfoundation.org where you can download guides and read parents' and children's success stories.
By Luana


Thank you to Lisa for running contests, submitting content, headers and dividers to the newsletter.
Thank you to Melissa for running MOTM and providing content for the newsletter.
Thank you to Juliet and LuanaTF for submitting content to the newsletter.
Thank you Kit for running contests and submitting content.
Newsletter edited by Lilbunny (Sarah).